Description
We encourage you to contact us before placing order on Messenger or 02 8677 4316 for stock status.
The tablet that goes where you go
With a premium metal body and compact design, the Galaxy Tab A 8.0 is easy for the whole family to hold, even the kids. At only 8mm thick and weighing just 345g, it's a tablet you can take with you, wherever you go.
A design that won't get in the way
We removed the front home key on the Galaxy Tab A 8.0 to give you a large screen to view and explore. Dual speakers on the bottom stay out of sight and complement the slim feel
A screen you'll love to watch
The Galaxy Tab A 8.0 features a vibrant 8 inch, 1280 x 800 pixel display with 16:10 aspect ratio for optimum viewing, both portrait and landscape. Immerse yourself in your favourite videos, movies and TV series* and get more out of the content you love to watch.
* Internet connection may be required, data and subscription charges may apply
A digital playground for learning and fun
Samsung Kids Home helps you shape a safe environment for your kids to explore.* Simply tap in the quick panel to enjoy native apps with characters that live inside their virtual world. Parental Control helps you monitor usage and play time so you can hand over the tablet with peace of mind.
* Content provided on Samsung Kids Home varies by country and region
Stay connected even when apart
Set up a Samsung Account and share items from the Calendar, Samsung Notes and Gallery apps.* With instant sharing of pictures and videos, events, notes and more, your family can create memories together.
* Internet connection required.
Focus on what you want to see
View what you want, when you want it. The One UI on the Galaxy Tab A 8.0 helps minimise display clutter by enabling you to organise content that is relevant to you. Simply tap and focus on what you want to see and read, one detail at a time, for a more balanced tablet experience.
Battery life that stands out from the pack
The Galaxy Tab A 8.0 has more power than you'd expect in a device this compact. It comes with a powerful 5,100mAh (typical) battery optimised for extended use.*
* Battery capacity value of a 'typical' user. Based upon independent third party testing. Rated (i.e. minimum) battery capacity value is 4,980 mAh. Actual battery capacity value may vary. See user manual for instructions on optimum battery life.
Power your life, keep your moments
When it comes to performance and storage space, the Galaxy Tab A 8.0 ticks all the boxes. It comes with 2GB of RAM, 32GB* of storage and the latest Android OS P. A dedicated Micro SD Card slot** allows up to 512GB more so you can keep your memories in one place.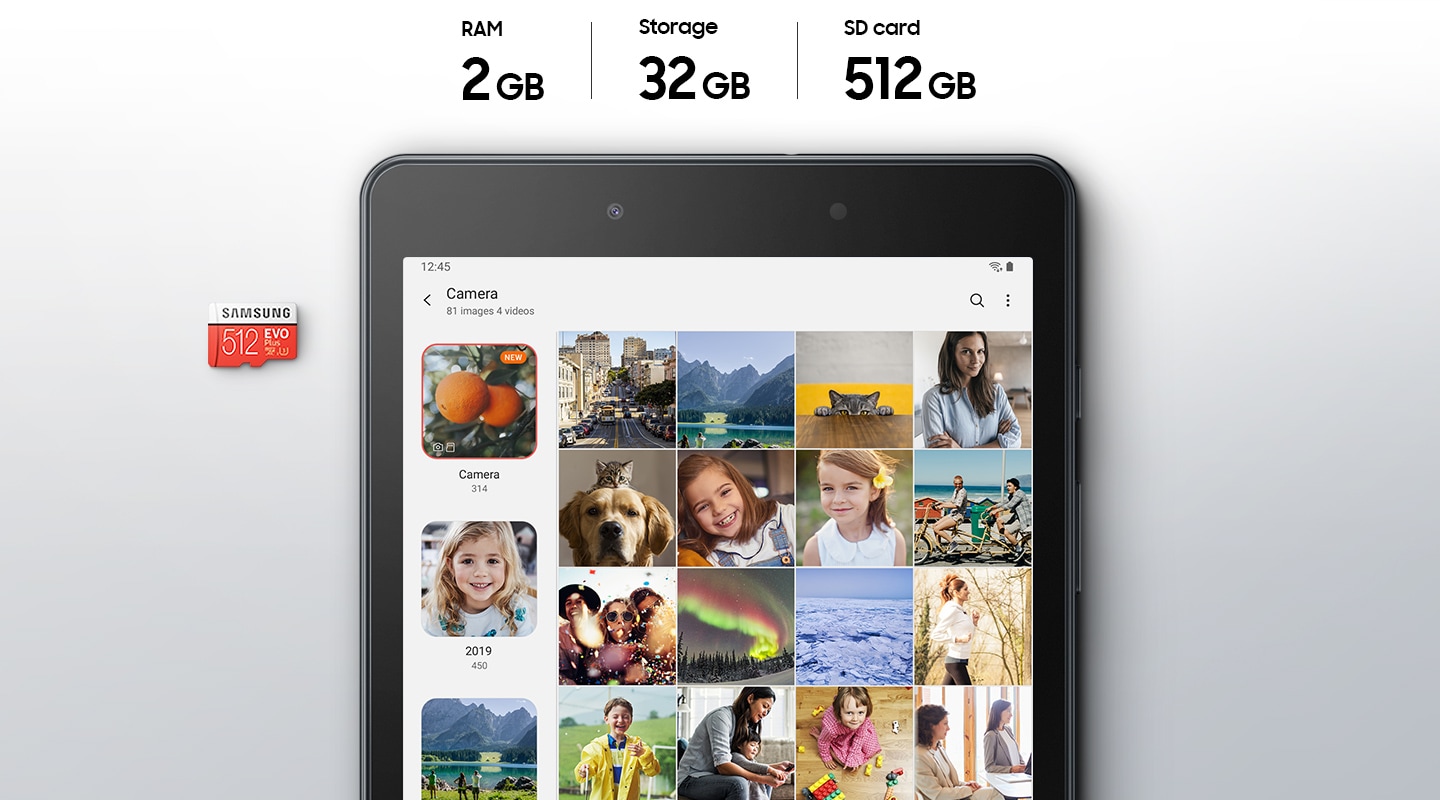 * Up to approximately 21.3GB available, depending on installed software ** Micro SD Card sold separately.
2GHz

Processor

8.0" (203.1mm)

Display

8.0 MP

Rear Camera - Resolution

345

Weight (g)

Brand New 2019 Samsung 32GB Galaxy Tab A 8.0 SM-T290 Black 
Brand Samsung

Descriptive Colour Black

Finish Metal Unibody Design

Manufacturer's Warranty 2 year

Material Metal Body

Model Number SM-T290

Operating System Android

Product Dimensions (mm) 212.1W x 7.95D x 124.1H mm

Product Weight (kg) 0.345 kg

Stylus Pen Included N/A

Technology TFT (1200 x 800)

USB Cable Included Yes

Bluetooth Compatibility Bluetooth 5.0

Internet Connectivity Wireless

Wireless Protocols Wi-Fi 802.11 a/b/g/n/ac (2.4GHz + 5Ghz)

Display Resolution 1200 x 800

Display Size (Diagonal) 8 in

Display Type TFT LCD

Touch Screen Yes

Part Number SM-T290NZKAXSA

Parental Controls Yes

Primary Camera Quality 8 megapixel

Primary Camera Video N/A

Secondary Camera Quality 2 megapixel

Secondary Camera Video0p

Ports Headphone/Speaker Ports (3.5mm Audio Out) 1

Number of HDMI Ports 0

Number of Micro DisplayPort Ports 0

Number of Micro HDMI Ports 0

Number of Mini DisplayPort Ports 0

Number of Mini HDMI Ports 0

Number of USB 3.0 Ports 1

Power Battery Technology

Lithium-ion Interface (Bus) Type

Type C -USB Power & Charging Interface

USB-C Run Time (Up To) Hours 0 hours

Number of Processor Cores Octa-Core 

Processor Clock Speed 1.95 GHz

RAM Installed Size 2 GB

Capacity 32 GB

Max Supported Memory Card Size 512 GB

Supported Flash Memory Cards microSD

Images are for illustration purpose only iPhone not included.
What's In Box Package 
Travel Adaptor
Data Cable
Stereo Headset
Quick Start Guide
Warranty Card